What do you think? Add your comments in WARPIG's REC TALK Forum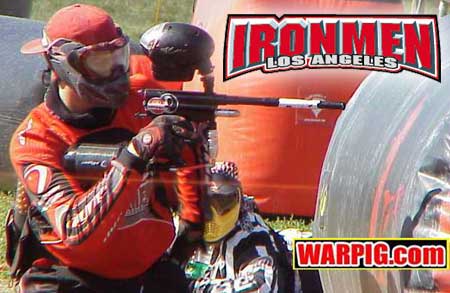 Ironmen Training Seminar
Los Angeles Ironmen
On June 28th and 29th, SC Ironmen captain Rich Telford will present a paintball skills seminar at Northern California's premier Paintball Facility, Extreme Paintball. Learn how to shoot, move and communicate. Individual Instruction and drills for back, front and insert players. Learn how to walk fields, close out opponents and build team chemistry from some of the best professional paintball players in the world today.

What you will get:
~2 days of entry and unlimited air fills at Extreme
~2 cases of paint
~Ironmen T-shirt
~Skills Rating
~Recommendations on specific areas of improvement
~Seminar Certificate
~Lunch both days of seminar
~Dinner Saturday night with the Ironmen

Seminar instructors include professional paintball players from the Los Angeles Ironmen:
Rich Telford
Yoshio Rau
Matt Marshall
Kevin "Catfish" Arcilla

All this for only $375.00 if registered by June 15th, after June 15th up to the day of the event the price will be $425.

There will not be any single day pricing.
Teams, Stores or Fields that register 10 or more players can either get a 10% discount or get a free entry. We will also have a special raffle for participants, prizes to be announced at the event.

If you've been wanting to become a better paintball player, now is your chance.
For registration or questions call 209-571-0210 or E-mail extremepb@sbcglobal.net.

If you haven't been to Extreme the field is centrally located about 90 minutes from the heart of Sacramento and Fresno, less than 90 minutes from the San Francisco and San Jose area's. Also, for anyone needing a hotel, we arranging for a grouping of rooms at a discounted rate at one of our local establishments. You must pre-register to be able to take advantage of these savings. Please mention on room needs when calling or E-mailing.